Cunard Princess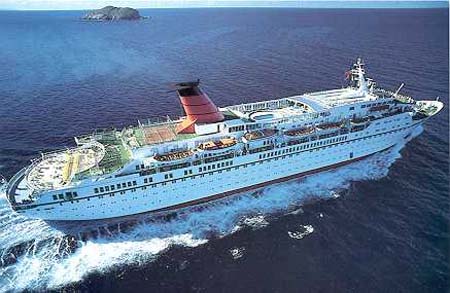 Built in Denmark and having had her fitout in Italy, the Cunard Princess was originally intended to be used by MGM as a floating playground.
To that end, Playboy boss Hugh Hefner was involved in the original design of the ship. However when that venture fell over, Cunard acquired the ship along with a sister Cunard Countess.
The two ships were amongst the first intermediate sizes cruise ships to prove successful in the jet age. Cunard Princess was christened by Princess Grace of Monaco. The ship's original name was to be Cunard Conquest, however before the ship entered service the name was changed to Cunard Princess.
Cunard deployed the Cunard Princess to the Mediterranean. During the Gulf War the Cunard Princess was used as a recreation ship for troops operating in the middle east.
From 1993 the ship was operated within the Cunard-Crown division. Cunard Princess enjoyed a loyal following until she was retired from Cunard service in 1995 and sold to StarLauro, which used the ship to replace the recently lost Achille Lauro.
Cunard Princess was re-named Rhapsody and sailed for the newly renamed MSC Cruises. She remained with MSC until she was sold to Mano Marine in 2009.
Re-named Golden Iris, the ship currently operates for Mano Marine on voyages in the Mediterranean.
Image sourced with permission from: Simplon Post Cards