Cunard Crown Dynasty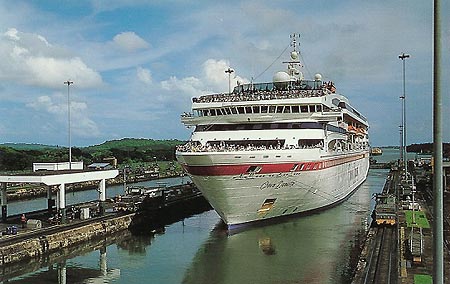 The Cunard Crown Dynasty was built in 1993 for the Crown Cruise Line. She joined the Cunard fleet as part of a joint venture between Cunard and Crown Cruise Line and remained with Cunard until 1997.
Following her departure from the Cunard fleet, the ship was transferred to Majesty Cruise Line and renamed Crown Majesty. This arrangement didn't last long, and by the end of 1997 the ship was sailing as Norwegian Dynasty for Norwegian Cruise Line (NCL).
After a brief stint back with Crown Cruise Line in 1999, the ship was finally sold to Fred Olsen Cruise Line in 2001.
The ship, which was lengthened, sailed as Braemer for Fred Olsen Cruise Line until the 2020 pandemic where she was laid up.
Fred Olsen announced in 2023 that they would not return Braemar to service.
Image source: Simplon Post Cards